7 days incl. HB.
4 Workshops ( Mo. Tu. We. Fr. )
Saturday - Saturday

11. 07. 2015  bis 07. 08. 2015
€ 434.- per person
incl. HB.
€ 2.- local tax
excl. material costs
The Green Way – Distillation
Put your nose into the use of healing plants with green fairy Daniela Lamprecht! Experience all your senses and take valuable products with you home.
Distillation of herbal waters
The production of aromatic and healing hydrolates had almost fallen into oblivion. We follow the tracks of alchemist tradition and extract different plant waters. Then we use them for making an antiperspirant and a bug spray for the hot season.
Old Tirolean Knowledge for Wellbeing and Treats
The well known mountain farmer and herb woman Gertrude Messner shares her large knowledge with you in the Herbal Theme-Garden of Guesthouse Aloisia that she co-created.
Here you learn traditional recipes for bread baking and which plants were prescribed by Hildegard von Bingen. Gertrude shows you the secrets of alpine herbs for teas, oils, extracts, spreads and fresh use.
Another old tradition – prayers for health and rituals for contemplation – is also shared by the expert in naturopathy. Making strength available.


ANIMA – Botany with soul and edible flora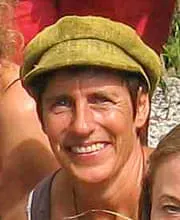 Cornelia Miedler presents to you living herbalism with live music and samples of nature that let you experience the beauty, the scent and the taste of the local flora.

Further offers from Cornelia Miedler:
Mediation between the visible and the invisible world of men – animal and nature she is gladly offering her advice and wisdom covering anything from folk medicine, herbalism for your general well-being or even the proper refinement for your daily meal.
Herbal soul medicine – Burning Incense

Learn how to craft local incense and their relevance to folklore, body and soul.

Twilight walks to the "springs of power" in Going 
A guided walk to the "Blaikner Urkraftplatz". 
Discover your personal source of inner power at the wheel of life, the labyrinth, the wishing stone, the site of forest angels and many more..
Find peace, refill your inner battery and feel what strengthens you.

Making your own Natural Cosmetics
Making your own Natural Cosmetics with Daniela Lamprecht you get to know what is in it!
We use only the finest natural raw materials for body, spirit and soul. Create precious treats for the body: lip wax, antiperspirant, body butter, hand lotion or a great facial cream.